..
NOTE: This thread was originally started by me to gain attention to all the fine work James McQuade
contributed to the death fetish community starting with the 30th anniversary of his Misty comic series.
Shortly after I started this thread member llhuydd has been a invaluable contributor of almost all of
McQuade's artwork and graphic comic art stories and also make it into the essential reference artwork
archive it has now become. So to that... member llhuydd deserves or eternal thanks!!!

G-man
.
.
..
Hi Folks,
About thirty years ago when I was a Collectables Dealer (Cards, Comics, Autographs / Memorabilia)
I was at a friends comic shop and it was then I first seen Misty #1 released by Forbidden Fruit comics.
This series was previously released in book form 1972 and 1983, "Misty" and "Misty and the Sun Jewel".
Well, I was smitten by the Misty character especially her looks and body type that was depicted by the
artist James McQuade.
He nailed it on what I feel my fantasy female should look like and wound up getting the whole misty
series and some.
Then about 7 years later James McQuade joined on one of my earlier message boards and after one
thing lead to another I was invited to visit him in 2000 and again in 2001.
Revised Note: Sorry but I did not mention that member and my good friend BrianTK also was with
me during both visits. He lived in Las Vegas and his home which I was staying with at the time.
Since he once owned a comic shop... he also got a kick out of meeting James as much as I did.
For the newer folks, apart from being being a very talented artist James is also a big death fetish
fantasy fan.
Over the past 20 years or so other members shared and posted examples of his talent.
So for those members who are just arriving and or the ones who lost some of his art examples...
I will start to post some again with the best highlights from James McQuade's Misty comic series
and keep adding more of his stuff here as times goes by.
Of course if any other folks out there would like to post some of his stuff you are very welcome.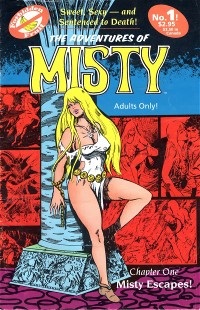 Full View of Issue #1 Cover
55
Death Scene A
55
Death Scene B
55
Death Scene C
55
Death Scene D
.
.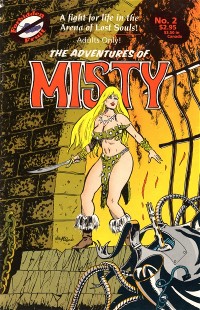 Full View of Issue #2 Cover
55
Death Scene A
55
Death Scene B
55
Death Scene C
55
.
.